The Vacuum Doctor has changed their name. We are now Bernie's Sew & Vac. Please visit our new site at: BerniesSewVac.com
This site will continue to take orders and be updated with new products but Bernie's Sew & Vac will be main site.
---
Lindhaus DYNAMIC ECO FORCE 380E | Dynamic ECO 380E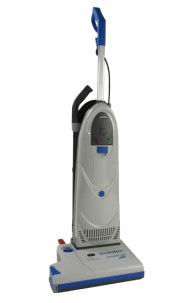 Item: 1714
Description: Lindhaus DYNAMIC ECO FORCE 380E
Part Number: Dynamic ECO 380E
Notes:
Price: $717.99
In Store
Brand: Lindhaus
Category: Vacuums Commercial - Upright Bagged
Item Description:
Dynamic eco FORCE 380e
Two motor ultra light carpet cleaner

STRENGTHS
Light handle weight
Ultra strong metal brush supports with bearings
Extremely stable
Accessories integrated on board
Replacement filter bag on board
Integrated dry cleaning system
Interchangeable roller covers for carpets and floors
Telescopic handle for maximum comfort
No tools are required to replace the brush roller or to clean the base housing.
DCS is the patented integrated Lindhaus dry-cleaning system. The mechanical action of the 5000 rpm brush in conjunction with the Lindhaus dry compound provide thorough cleaning which results in soft, fresh, clean carpet.
Dynamic has a patented weight distribution system that allows the handle weight to be only 860g (1.9lb).
Full set of accessories are placed on board and a slot to hold extra replacement bags.
Accessories placed on board include: extension hose with handle grip, telescopic wand, crevice tool, upholstery tool with bristles and slot to hold and extra replacement bag.
->HH